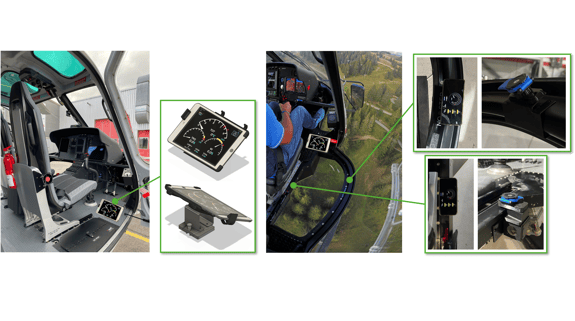 FLI Repeater Mounts - Airbus AS350 - NEW!
The certified solution to allow utility operators to hold the device they use for the FLI Repeater App.
WHAT MAKES US SPECIAL
Swiss Helicopter Engineering
We find the right solution to solve your problem in aviation, certified and functional.
NEWS AND INTERESTING THINGS
From our blog
FREQUENTLY ASKED QUESTIONS
How can we help you?
We want to simplify your life. In the following you see answers to some questions that might arise.
Why do I need to work with a DOA?
Each aircraft, to be able to fly in most countries of the world need to have a Certificate of Airworthiness.
If the owner/operator of the aircraft want to modify (or repair outside the approved manual) the aircraft with additional installations, these installation need to be approved by the Authority in order for the Certificate of Airworthiness to remain valid.
A DOA is an EASA approved organization that can approve modifications (if minor) on behalf of the Authority and is the only organization that can work with EASA for the approval of a major modification (STC) or repair.
How do I know if the modification I have planned to implement is major or minor?
A DOA like Swiss Helicopter Engineering has the privilege to classify a design change as minor or major on behalf of EASA. Contact us and we'll provide you with a preliminary analysis!
How do I check if Swiss Helicopter Engineering can perform the Certification Project that I have in mind?
Swiss Helicopter Engineering has a wide approved Scope of Work including a Flight Test Organization! Check our Terms of Approval in the Certifications section or contact us directly!
I'm interested in one of Swiss Helicopter Engineering products, but it is not certified for my aircraft. What should I do?
Contact us! We will provide you with a possible certification schedule for your aircraft Type!
Do you need a tailored modification?
We work with our customers from the conception, design and imprementation of their customised solutions.