Check out SHE installation of an EFB Holder on the AS350/H125, developed in collaboration with our partners of Heli Solutions GmbH!

Applications on AS350/H125
The Airbus H125, formerly known as the AS350, is an extremely popular single-engine helicopter model, which is why we know it so well. It is used in a wide range of applications from passenger transport to work and material transport missions.
This installation is used by our clients to support their EFB of choice (8 inch, 10 inch, iPad Mini, iPad Pro, iPad). Additional models can be added on request! This product has been engineered from pilot's experience.
Features of the EFB holder
The holder allows an easy installation and ensures absence of vibrations of the EFB device. It can be installed on the left side of the instrument panel or next to the instrument panel on the right side, allowing to install up to two EFB holders at the same time.
A safety pin on the holder is specifically designed to ensure the retainement of your tablet in every condition; not a chance that it could fall into commands!
A further approval for minor changes is added to our list
This minor change is approved by our DOA (EASA DOA 21J.730) and can therefore be applied to your Airbus AS350/H125 helicopter without further red tape from August 2022.

Want to know more?
Read the detailed product page clicking here, or contact us for a quotation or for any additional question.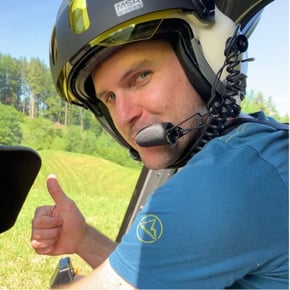 Julien Blanc
Compliance Verification Engineer - Expert in compliance verification of Flight, Structures, Cabin, Cargo Hooks, ICA and Manuals - BSc, MSc in Mechanical Engineering - Helicopter pilot