Swiss Helicopter Engineering (SHE) is proud to announce its latest achievement, the approval of a minor change for the installation of an VHF FM COM radio on the AS350/H125. The achievement has been possible through the collaboration with our partners of Swiss Helicopter Maintenance (www.shm-ag.ch).

Applications on AS350/H125
The Airbus H125, formerly known as the AS350, is an extremely popular single-engine helicopter model, which is why we know it so well. It is used in a wide range of applications from passenger transport to work and material transport missions.
The application of a new radio model allows the Airbus H125 to be equipped with modern, state-of-the-art equipment.
This equipment is used by our clients to facilitate aerial work, allowing the pilot to easily and safely communicate with flight assistants and other technicians on the ground.
Features of the VHF FM COM Radio
The installation is complete with a state-of-the-art commercial VHF FM radio (Kenwood NX-3720E), featuring all the most modern functionalities and fully interfaced with the aircraft audio management system, allowing for the customisation and tuning of several parameters, including Sidetone.
The equipment ensures the best possible audio quality between the pilot's and co-pilot's headsets, and includes an additional antenna on the helicopter's fuselage.
A further approval for minor changes is added to our list
This minor change is approved by our DOA (EASA DOA 21J.730) and can therefore be applied to your Airbus AS350/H125 helicopter without further red tape from May 2022.

Want to know more?
Read the detailed product page clicking here, or contact us for a quotation or for any additional question.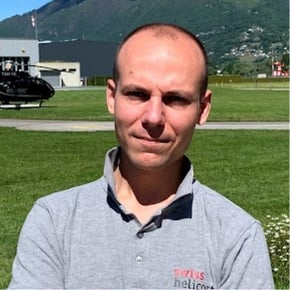 Matteo Confalonieri
Head of Office of Airworthiness - Expert in aeronautical products airworthiness - BSc, MSc, PhD in Mechanical Engineering